Are y'all as stir crazy as I am after being snowbound for the last four days? I was stuck in the house with two cats and two dogs while the hubs was out of town. No.fun. I'm just grateful that our power stayed on; but right now? OMG, I'm so ready to get out + mingle!!! Cabin fever has set in and I'm in need of some face to face interaction.
So the timing couldn't be more perfect for the
Hometalk
/
Michaels
Pinterest Party that's coming up this Sunday. Woot! You can't start that party soon enough for me!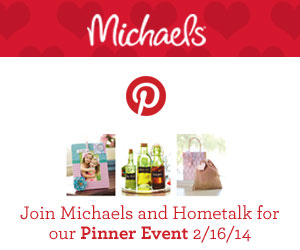 Are you in the NE Georgia area? If so, plan to come! I'll be hosting at the
Gainesville Michaels Store
, + I would absolutely love to see you there. But if you're not near my location, don't worry. There are over 100 Michaels Stores participating in the U.S. and Canada! Just click the above image to find your closest participating
Michaels Store
and make your plans to be there.
And to help inspire you, you can check out all the fantastic creations in the Pinterest Party Blog Hop below. Yep, the bloggers of Hometalk have put together this awesome blog hop to highlight their projects and to help inspire you to finish one of those projects you have pinned on your Pinterest board. So many talented ladies! Just click the project of your choice + you'll be directed to the tutorial.
There are so many creative ideas, you'll have a difficult time choosing just one. But the great thing is, you don't have to. Pick as many projects as your heart desires, head to Michaels to grab all your supplies, then on Sunday, February 16th from 1-4 pm join us in the craft room as we gather for a few hours of fun.
I can't thank Hometalk and Michaels enough for scheduling the party for this weekend. How did they know we'd be in dire need of some major interaction right now? I'm not sure - I think they're just awesome that way.